Slot Machine Stands - Best Quality Anywhere
Sizes to Fit Antique Slots, Pachinko, Pachislo, Vegas Slots and Cash Registers
3 Sizes, 3 Wood Types, 5 Hardware Colors, 2 Door Choices
Click below to explore the 3 different models
Slot Machine Stand Model 1
For Antique Slots and Small Cash Registers
Slot Machine Stand Model 2
For Pachinko, Pachislo Machines and Large Cash Registers
Slot Machine Stand Model 3
For Full Size Vegas Slots
The Story Behind the Stands
If you are looking for a hand-made stand to display your antique slot machine, cash register, Pachinko, Pachislo or even your full-sized Vegas slot, look no further. I sell the finest stands available anywhere. In 2001, I paid too much money for a stand for my own slot machine, only to discover that it was made mostly from thin plywood and oak veneer. It was a decent enough stand, and the carpentry was good. But the stand weighed only 32 pounds and there was just something about it that I didn't like. It took me 3 years to finally realize what I didn't like about it - it resembled a kitchen cabinet. In fact, just about every stand I looked at resembled a kitchen cabinet. The reason? Most slot stands are made by cabinet makers.
That's when I decided to design my own brand of slot machine stands. I wanted my stands to look like fine furniture pieces with rounded, hand-sanded edges instead of sharp routed edges. I wanted them to be heavy and sturdy - made from thick, solid woods, not plywood and thin veneers. I wanted them to have decorative metal accents that matched the character and genre of the machines they would display. So I made some sketches and then went to several furniture manufacturers to see what they could do. I had many samples made by different companies. The company I finally chose specializes in making exact reproductions of centuries-old antiques. Most of their work is done by hand, including hand-carved accents, complex bridle joints for the door corners, and rounded, hand-sanded edges. No staples are used. They even collect their own tree sap to make the lacquers that are used to stain the wood.
So if you want a plywood/veneer stand with a kitchen cabinet look and mouldings that look like they came from Home Depot, look elsewhere. If you prefer a cabinet made from solid cherry, oak, or elm, with hand-carved sides, hand-sanded edges, decorative columns, metal finials, and hand-rubbed virgin lacquers, you came to the right place.
Click on model 1, 2 or 3 above, then follow the link to the web page where you will see more pictures of that model. You can also order the stands on those pages.
Five Color Choices for Claw Feet and Finials
Click on the picture below for a larger photo that shows the five color choices you have for your claw feet and decorative finials.
Pictured at 1 o'clock is Bright Gold.
Pictured at 4 o'clock is Bright Silver.
Pictured at 6 o'clock is Silver Grey Hammered. Look at the larger picture and you will be able to make out the hammered effect.
Pictured at 8 o'clock is Dark Bronze Hammered.
Pictured at 11 o'clock is Copper Hammered.
Custom colors are also available for a $25 fee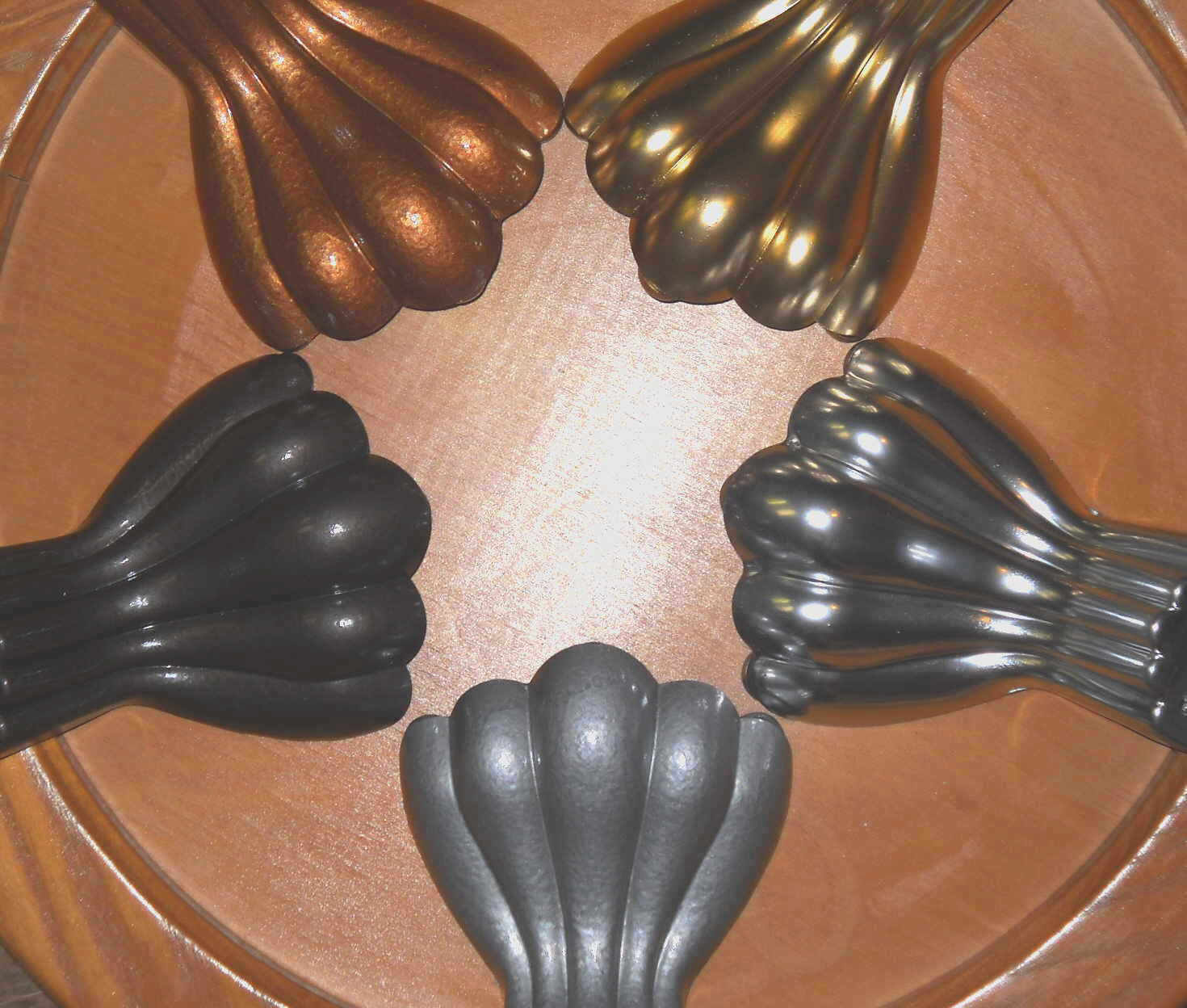 Three Solid Wood and Stain Choices
Compare Us to the Competition
| | | |
| --- | --- | --- |
| | Ours | Theirs |
| | | |
| Wood | Solid Oak, Solid Cherry, Solid Elm | Plywood with Wood Veneers |
| Approximate Weight | Oak - 65 lbs, Cherry - 60 lbs, Elm - 55 lbs | Typically 35-40 lbs |
| Top | A full inch of solid oak, cherry or elm | Typically 1/2 to 3/4 inch. Sometimes veneer. |
| Front | Vertical Columns plus Decorative Metal Finials on top and bottom of columns that match the color of the claw feet. | Typically flat without decoration. |
| Sides | Sculpted panels with decorative hand-carved vertical strip. | Flat. |
| Door | Choice of solid wood sculpted panel door or double-thickness Beveled Glass that weighs 4.5 pounds! Also available are more than 20 styles of stained glass panels. | Plain Wood Door or simple Window Glass |
| Claw Feet | Five color choices for the Claw Feet and matching finials. | Fewer choices, and some charge extra for brass. |
| Price | $345 for Antique Elm, $385 for Oak, $425 for Cherry | Typically from $399 to $475 |
Summary
better materials
thicker woods, no veneers
heavy, beveled glass -or- choice of stained glass panels
wood columns with decorative finials
sculpted sides and door
And a Lower Price!